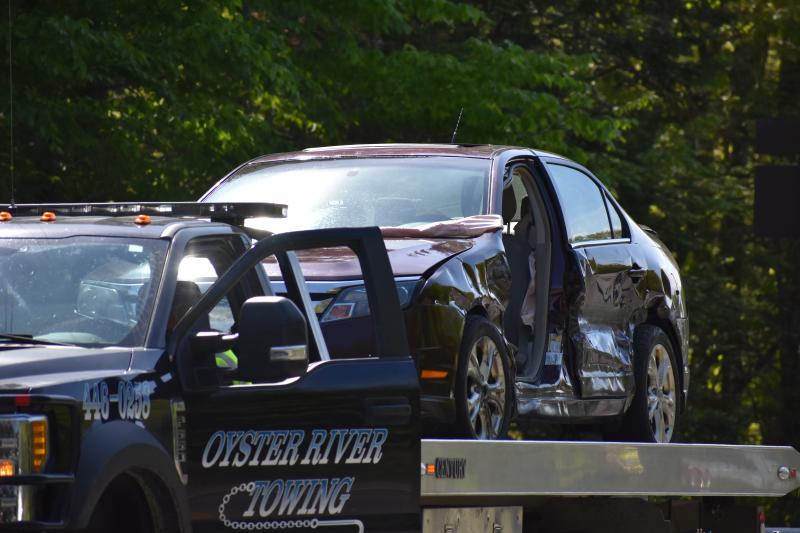 UPDATE: Warren accident slows traffic along Highway 1
WARREN – A person had to be pulled from a vehicle on Tuesday afternoon, May 24, after a three-vehicle accident closed a lane on the Atlantic Highway (Route 1), in Warren. This person was transported to a local hospital with non-life-threatening injuries, as was another person involved in the incident.
Around 3 p.m., Knox Regional Communications Center received reports of a crash near the intersection of Atlantic Hwy and Stirling Road in Warren.
According to the Knox County Sheriff's Office, a beige Toyota Camry, driven by Mary Gammon, 89, of Warren, was stopped in the southbound lane of Rt. 1 waiting to turn left onto the north entrance to Stirling Road when it was hit by a black Toyota Tundra, driven by Wilson Collamore, 46, of Waldoboro.
The Camry crossed the northbound lane of Rt 1 and came to rest on Stirling Rd, the KCSO said. The Tundra went right and hit the southbound guardrail, bounced and went left, crossing the center line, hit a maroon Ford Fusion, operated by James Dorian, 58, of Waldoboro, then s is immobilized in the ditch heading north. The Fusion came to rest on the shoulder heading north from Rt. 1.
Mary Gammon and Wilson Collamore were treated and released at the scene for their injuries. James Dorian was taken to a local hospital with non-life-threatening injuries. Camry passenger Earl Gammon was extracted and transported to a local hospital with non-life threatening injuries.
The incident is still under investigation, but the driver's inattention and following too closely are believed to be factors in the accident, according to Chief Deputy Patrick Polky.
All three vehicles sustained significant damage and were towed.
KCSO was assisted by Warren EMS and Fire, Waldoboro EMS and Oyster River Towing.
---
WARREN – Traffic was slowed to one lane along the Atlantic Highway in Warren on Tuesday afternoon, May 24, 2022, following a three-vehicle accident at the intersection with Stirling Road.
Two people were transported to Miles Memorial Hospital, Damariscotta by Warren Ambulance and Waldoboro EMS.
The northbound lane was closed to traffic for about an hour as members of the Warren Fire Department and Knox County Sheriff's Office deputies attended to the scene.
On Saturday, May 21, the Warren Fire Department and deputies responded to another accident in Warren. Warren and Thomaston ambulances each transported a patient to Pen Bay Medical Centre. North East Mobile Health was called in to help transport patients, but was canceled en route when a third person shared plans to drive to the hospital in a private vehicle.
Contact Sarah Thompson at [email protected]