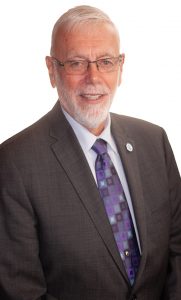 NAI's Highton, an advocate for customers and the industry
VICTORIA – As long as he has been in the real estate business Bev Highton has been an advocate for its customers and the industry.
Highton the owner/broker of NAI Commercial (Victoria) Inc. for over 20 years started in the company in 1967. He is a former president of the Victoria Real Estate Boardformer president of Real Estate Council of British Columbia (now BCFSA) helped found and served as president of the RReal estate errors and insurance company and some British Columbia Special Compensation Society. In his spare time, he served as long-term chairman of the British Columbia Cancer Foundations vancouver island Consultative Committee. He is currently a director of Grumpy Taxpayers Association.
"It's always fun to lean against windmills," he laughs.
Highton notes that long-term success in the real estate industry requires integrity by putting the interests of your clients before your own.
"Realtors should always keep their clients' best interests at the forefront, providing the client with the best possible information that enables them to make wise and informed decisions," he adds.
Highton began his real estate career in 1967 with DF Hanley Agenciesnow known as DHF. In 1981, he opened Highton and Associates, a well-known and respected real estate company. At the same time he had a construction and development company Qualiterra Investments Ltd. who has been involved in projects throughout the Capital Regional District. This led to the creation of a property management company Complete asset managementthe residential division which was sold to two longtime employees known today as Complete residential property management.
About 20 years ago, the company moved to its current location at 569 Johnson Street, joining NAI Global, an international real estate organization, and changing its name to NAI Commercial (Victoria) Inc.
NAI Victoria is active in all facets of real estate. The sales team includes specialists in the following areas: investment acquisitions and sales, residential project sales, single family, industrial/warehouse sales, land assemblies and development properties. The firm acts for a number of local and national real estate organizations.
Highton recently welcomed a new partner to the business, Ken Featherby, who for many years managed the property management portfolio which includes office buildings, shopping centers and commercial properties throughout the island.
Currently, Highton has been involved in the Downtown Business Association and the Greater Victoria Chamber of Commerce faced with the massive increase in property taxes for commercial properties, which has placed a heavy economic burden on commercial tenants and landlords. In short, BC Assessment rates properties not on their actual use but on their potential use.
An example would be a lot on which a fully leased two-story office building is assessed for its potential to build a 15-20 story building on it. The result is a huge increase in property tax which is borne by the occupants of the property.
As Highton says "It's like he dreams of owning a Lamborghini and being taxed on it like I bought it."
He adds that this increase should not take place until the property is rezoned or redeveloped for higher use or has been sold at a higher value.
www.naivictoria.ca