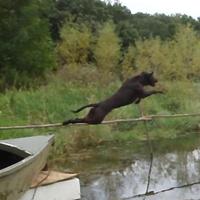 Many events and activities across the region this weekend | New
(Kandiyohi County MN-) Many events are happening in this area this weekend:
The 39th annual Prairie Pothole Day takes place Saturday from 9 a.m. to 5 p.m. at the Stoney Ridge Farm site on Highways 9 and 71 northwest of New London. There is no admission, but people are encouraged to purchase a ticket or tickets for the many raffles…there are over 20 booths of exhibitors and vendors, dog distance jumping , black powder shooting, climbing wall, bb gun shooting, ax throwing and much more. Parking available on the grounds, and dogs on a leash are welcome.
Two live country music festivals take place on Saturday. In Willmar, Studio 38 presents George Birge and Erin Grand Live at Robbins Island Park. The event, hosted by businessman Willmar Steve Peppin, runs from 4 p.m. to 10 p.m. All ages are welcome and food and drink will be available on the pitch. Visit eventbrite.com or Pep's Barbershop to purchase tickets.
Also on Saturday, the Monson Lake Opry Festival returns for its second year to the Brad Danielson property, 225 170th Ave NE, Sunburg. Doors open at noon and scheduled artists include Gene Watson, Ricochet and Wade Hayes, as well as local bands. Go to eventbrite.com for tickets, as well as Brinks Beer Joint in Swift Falls, Brinks 104 Club in Spicer, Eagle Lake Repair in Willmar and at the door. The event takes place in a large red barn converted into a stage, and people must bring their own lawn chairs or blankets.
Also on Saturday, the 12th Annual Out of the Darkness Community Walk takes place at Robbins Island Park in Willmar from 9 a.m. to 1 p.m. The event aims to raise awareness and funds that enable the American Foundation for Suicide Prevention (AFSP) to invest in new research. , creating educational programs, advocating for public policy and supporting suicide survivors. For more information, contact Ray Stenglein at 320-295-6000 or email [email protected]
Atwater Threshing Days are held Saturday and Sunday from 7 a.m. to 4 p.m. each day at the Atwater Threshing Site, 1100 Kandi-Meeker Road. Admission is $8, children 12 and under are free. There are exhibits of threshing, corn shelling, shingle making, a sawmill, hot air engines and Stirling cycle engines, a special exhibit of Ford Model T conversions and equipment. There is a state-sanctioned children's pedal board on Sundays at 11 a.m., construction activities for ladies, and food available on the grounds. Live bluegrass and gospel music on both days, rope making, scavenger hunt and children's play area.
On Sunday there is a fun back to school event at Pillsbury Park in Kerkhoven. The KMS Area Community Welcome Week event is growing from 330 to 530. There will be over 30 civic organizations there, showing all the services available. The Lifelink Air Ambulance Helicopter will land in the park, the DNR will be there with his K-9 Earl, and there will be a demonstration of fish from area lakes, local dancers and raffles.
And the Willmar Gun Show takes place Saturday and Sunday at the Willmar Civic Center. The event is sponsored by the Willmar Rifle and Pistol Club and the Willmar Trap Club. Admission is $5, women, children with adults and military are free. Door prizes every 1/2 hour. Hours are Saturday 8 a.m. to 5 p.m. and Sunday 9 a.m. to 3 p.m.