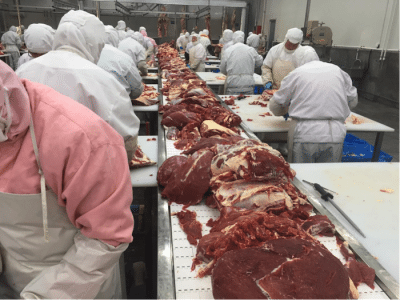 Labor crisis in processing threatens to escalate as Pacific 'first round' workers head home
The labor crisis in the red meat processing industry looks set to worsen in the coming months, as some workers involved in the first round of labor recruitment programs in Pacific Islands are finishing their four-year contracts and are due to return home.
A large multi-site processor told Beef Central last week it stands to lose around 90 Samoans or Solomon Islands from its books in the coming months.
This would happen in stages as their four-year terms under the Pacific Labor Scheme expired, starting this month through August, having arrived in 2018.
Part of the reason was a change in government in the Solomon Islands and a desire to repatriate young citizens to the country of 240,000 to boost the local economy, Beef Central said.
Currently, there are around 12,000 young Samoans between the ages of 18 and 40 in Australia and another 24,000 in New Zealand, which is seen by the new Samoan government as a drain on the local economy.
The Samoan government's approach only surfaced in the past fortnight, Beef Central said.
There appears to be a "pushback" sensitivity against the decision at the Australian government level, due to the current climate of tensions in the Pacific region involving China.
One of the avenues being explored is the route to longer-term Temporary Skills Shortage (TSS) visas (where existing Certificate II and III skills can be demonstrated), as a step towards permanent residency through the Meat Industry Labor Agreement (MILA). However, the new federal government is apparently wary of upsetting Pacific island nations during current geopolitical sensitivities.
As of February 15, 45 Australian meat companies had MILAs with the Solomon Islands Department of Home Affairs.
As things stand, Pacific Island workers in Australia who have completed their terms would have to return home for at least 12 months, before they have the opportunity to re-apply for another three or more terms. four years, according to Beef Central.
A large number of Australian red meat processors have a contingent of Solomon Islanders or Samoans (or both) in their workforce mix. Beef Central has learned that generally, the further north or west a processing plant is located, the greater the union representation of Islanders.
Several major operators in the red meat processing sector and the industry's representative body, the Australian Meat Industry Council, have already held briefings with the new federal Labor government, Beef Central said.
Some major export processors hope the Pacific Islands work program will be expanded this year, incorporating new sourcing countries, including Papua New Guinea and Indonesia, where the impact of long departures to offshore jobs in Australia would be less acute.
In the run-up to the federal election, Labor appeared less supportive of reforms to the agricultural visa program but was more receptive to an expanded Pacific labor settlement, Beef Central said.
"One of the frustrating things is that at the end of their three or four years, Pacific Islanders are qualified and as such valued employees. And given the choice, many would want to stay. "Said a Transformer. "Some (not necessarily large numbers) actually married Australians during their three-year stay, so there may be special cases to consider."
A recent article in the Solomon Island Times said the forced return of workers was "not ideal".
"Only promoting circular migration does nothing to strengthen the Pacific diaspora in Australia. An upper limit imposed on how long PLS workers can stay in Australia reduces incentives for workers to learn skills and take on additional responsibilities while in Australia," the article states.
"Once their four-year period is over, PLS workers who wish can, if they are able to find a new job or reclaim their old one, return to Australia after nine months at home. However, it is also not ideal given the uncertainties involved – particularly for the many PLS workers who are married and have children because, while on the PLS, they will be separated from their families.
The latest labor challenge comes at a time when Australia's red meat processing industry claims it is 10,000 workers short of its current staffing needs.
The industry's labor issues manifest themselves in multiple ways, with some processors choosing to abandon certain value-added practices on more labor-intensive items like offal, and simply processing that underutilized material in low value meat meal.
Several processors said that while recent rains had somewhat masked the underlying labor shortage in the industry since Easter, an expected increase in slaughter numbers in the second half of this year would seriously challenge the current workforce.
Need a "program" – not just a visa
The Australian Meat Industry Council has warned of huge labor challenges facing the red meat processing industry over the past 12 months – particularly as slaughter activity begins to return to more normal levels after herd rebuilding (link).
The so-called new dawn that the new Labor government planned to introduce through the Pacific Labor scheme meant that Australia's agricultural visa scheme would in future only be filled by workers from approved peaceful nations.
"For us, it's a bit myopic, if we haven't made the visa structure work properly," said AMIC chief executive Patrick Hutchinson.
"AMIC has already started its process of communicating with relevant ministers in the new government, saying we want a meat industry specific program – not just the visa itself – that better reflects the needs of the industry" , did he declare.
In the past, AMIC has pointed out that unlike activities like fruit picking – which are incredibly seasonal – meatworking is a continuous and permanent activity.
"We're 10,000 people short, from the time cattle are trucked off the farm or feedlot, to the time a steak hits a plate or sits in a box being loaded onto a ship. There are many missing pieces in the supply chain puzzle, from a labor perspective – even down to cold storage and logistics," Hutchinson said.
"We need a specific visa program for the meat (or food) processing industry. Even retail butchers are concerned. We are currently short a thousand butcher workers across Australia.
"The program must be much more specific and relevant to the needs of our industry. But it must be a complete program – not just the visa itself.
"We have already heard of slaughterhouses which, due to labor shortages, are closing the slaughter rooms, because they simply do not have the manpower to carry out this task.
"We have a situation, right now, where we are struggling to process six million cattle this year. According to forecasts for 2023-25, processing needs will increase again to reach nine or ten million head. How can we do that with the same staff we have now? It can't happen," Mr Hutchinson said.
A similar event was happening in the United States.
"The U.S. Senate committee heard complaints about too much power in the hands of a few processors, and ranchers were not being paid properly for their cattle, because there were too many cattle for the available number of farm workers. meat."
A proper program would start with an assessment of all the key areas where workers are lacking, Hutchinson suggested.
"Then we have to look at a number of different components. Currently, the retail butchery sector (which currently needed 1,000 workers alone) was only on the short-term visa list.
"This means that even though we have secured these butchers overseas, we can only keep them for six months before they return home," he said.
"In reality, we need five years."
"We ultimately need a visa program that addresses all of the key areas where the industry is lacking – including access to unskilled labor in areas such as bonding or loading – not just skilled boners, sand slaughterhouses".
"Further, this program needs to figure out how to get the product around efficiently – because, as we saw at Omicron, it comes down to food safety issues in Australia."
"Food security and farmer security – those are the two main outcomes we can achieve in this area, if we are able to develop a program that allows us to fill these deficient areas with workers."
Click here to see an earlier article and video celebrating Australian Country Choice's Pacific Island Meatworkers Choir.