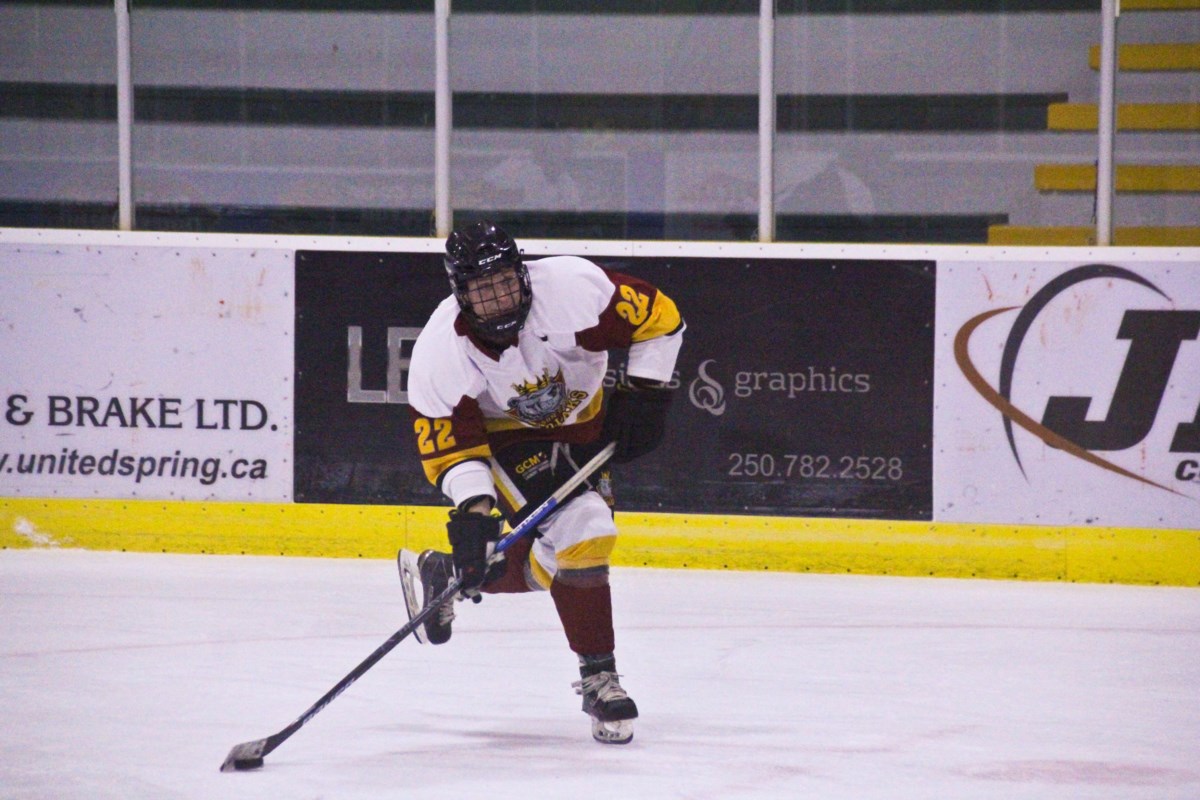 Dawson Creek Kodiaks beat Fairview Flyers 10-3 at home
This Sunday 1:30 p.m. is the next home game.
If there was any doubt that the Dawson Creek Kodiaks were a different team than the one that struggled to start the season, they wiped it out last night with a dominant 10-3 home win over the Flyers. Fairview, November 12. The Kodiaks beat the Flyers 6-2 last Saturday, and this is the Kodiaks' fourth straight win.
After the eventful first five minutes of the game, which saw the Flyers take a 2-1 lead, the Kodiaks flipped a switch and dominated the rest of the game. The Kodiaks scored eight unanswered goals before the Flyers scored the third late in the third period.
Parker Wilson had a hat trick in the game, while Jon Griffiths (2 goals, 1 assist) and Markus Ruehl (1 goal, 2 assists) also had three points each.
At 7-8, the Kodiaks remain in fifth place, but are only two points behind the Grande Prairie County Kings for second in the league. Dawson Creek will look to score two more runs against the fourth Sexsmith Vipers (6-6-3) at home on Sunday afternoon at 1:30 p.m.
DASHBOARD
1st period
Dawson Creek, Jon Griffiths (Jack Corr) – 17:11
Fairview, Tristyn Corliss (Cole Denoon) – 16:26
Fairview, Dalton Gibson-Ducharme (Tristyn Corliss, Cole Nicklason) – 15:42
Dawson Creek, Parker Wilson (Nolan Krane, Silas Reeds) 13:19
Dawson Creek Power Play by Tanner Lins (Silas Reeds) – 1:24
Dawson Creek, Brandon Rowley – 0:02
2nd period
Dawson Creek, Parker Wilson (Sephus Johnson, Nolan Krane) – 16:28
Dawson Creek, Parker Wilson (Sephus Johnson) shorthanded – 14:19
Dawson Creek, Hayden Paradis (Tanner Lins) – 13:38
Dawson Creek, Camron Wickham (Markus Ruehl, Hayden Paradis) power play – 8:20
3rd period
Dawson Creek, Jon Griffiths (Markus Ruehl, John Meyer) – 18:40
Fairview, Levi Boychuk (Tristyn Corliss) – 3:01
Dawson Creek, Markus Ruehl (Jon Griffiths) – 0:47
Power play
Circulars 0/9
Kodiaks 2/7
Strokes
Circulars 29
Kodiaks 42
Goalkeepers
Fairview, André Geisbrecht 12/17, Mason district 20/25
Dawson Creek, Corey Ross 26/29
---
Email sports reporter Dillon Giancola at [email protected]