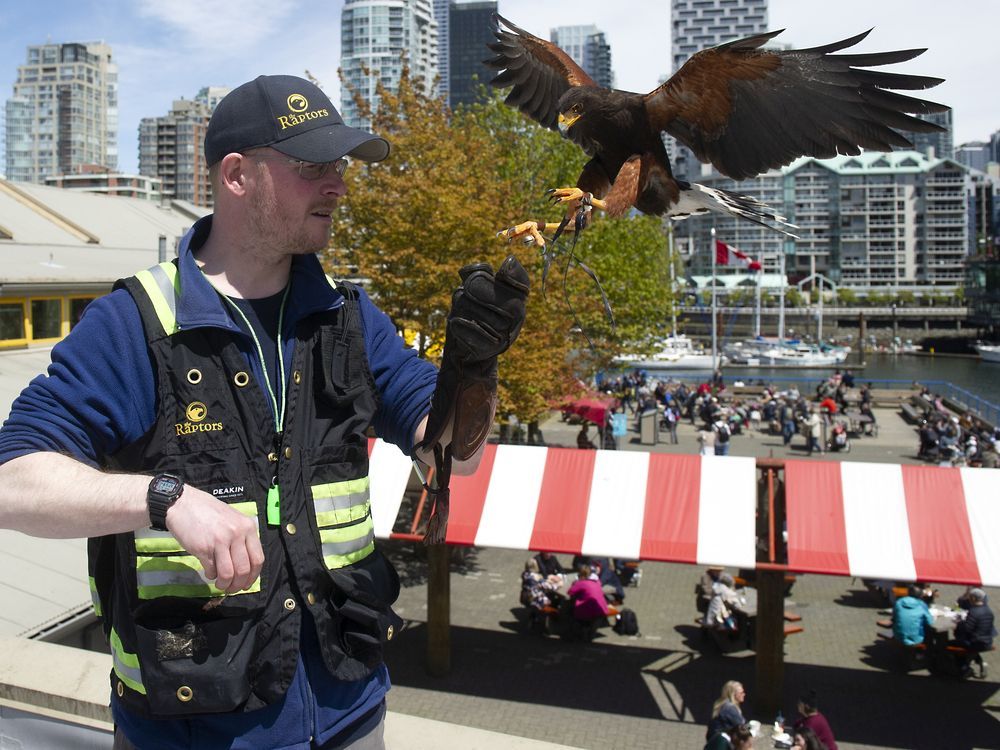 Birds of prey patrol the terraces of Granville Island
A ferocious looking hawk is on duty to protect your lunch from aggressive seagulls
Content of the article
Visitors to the popular Granville Island Public Market may not know it, but a hired worker watches over their lunch like a hawk to save it from thieving gulls.
Content of the article
Poki was on duty last week, a 1.5-pound terror whose beady-eyed presence is enough to thwart seagulls who have been known to surprise a hungry customer by dropping a basket of hot fries or snatching a slice of hands pizza.
Poki is one of two fierce-looking Harris Hawks – the other is named Goose – paraded through the market's outdoor dining areas during the busy lunch period every day during the summer to let people know gulls that they could be dead meat if they dive for that donut from Lee's.
Before he and his Pacific Northwest Raptors handler, Will De Haven, arrived around noon one day last week, at least two seagulls scouted over the patio outside the food market, buzzed a few tables and flew over the picnic areas. One of the gulls hovered and prepared to dive into a takeaway table before suddenly stopping and flying away.
Content of the article
On the pier near the old Bridges restaurant, visiting Austrians Manfred Sampl and his girlfriend Maria Loecker ducked when a seagull buzzed their heads. A few minutes before, Sampl had had his slice of cheese pizza stolen.
"I was going to put it in my mouth and it took it and flew away," said a surprised and amused Sampl.
When Poki arrived, the sky calmed down.
"If they know he's in the area, they're on high alert," said De Haven, who walks for three or four hours with Poki perched and strapped to his heavy leather hawk glove. "They go from looking for fries to looking for him."
The Raptors were hired by Granville Island a few years ago for "seagull reduction," De Haven said.
The market was looking for a humane way to deal with the aggressive seagulls that had taken to raiding the open compost containers next to the market. When the containers were moved and sealed, the gulls became "very aggressive with any food source," Granville Island spokeswoman Cate Simpson said.
Content of the article
The Raptors helped contain the nuisance and were low key.
"A lot of our visitors don't even realize they're there," she said.
The main goal is to scare off lunchtime scavengers, but the trainers are also committed to educating visitors about birds of prey for raptors (who regularly hold bird of prey shows with trained raptors on their property in Duncan, British Columbia).
"There's some entertainment value to it," De Haven said. He and the other workers who rotate through the shift can't take 10 or 15 steps without someone approaching to take selfies and ask about the hawk.
Harris's hawk, native to the southwestern United States, has black, dark brown, and white plumage, orange-yellow legs, and a hooked yellow beak. They make "excellent birds for falconry" because they are social and small in size, De Haven said.
Content of the article
He said using hawks is a natural method of reduction, compared to poisoning or shooting pests. And that helps gulls, which should feast on fish from the ocean instead, he said.
Poki lacks the hunting instinct and is more interested in the cut up chicks and quails which De Haven keeps in his waist pouch as treats to lure Poki to his peddling glove after he has been untied and stalked. flies away briefly.
Poki and Goose are also chosen for the food fair because as males they are too small to hunt the larger gulls. The larger female hawks are the ones most likely to kill a seagull, and they're left for other duties the Raptors take on, De Haven said.
The company is also hired by downtown skyscrapers to keep gulls from nesting on their buildings, by Vancouver Airport to keep flocks of snow geese and other birds from interfering with operations, and by waste stations to scare away the thousands of gulls that haunt the dumps. . At these sites, predators are occasionally and legally allowed to hunt and kill prey.
"They're predators," De Haven said. "They will catch and eat a seagull if we let them."
---
More news, less ads: Our in-depth journalism is possible thanks to the support of our subscribers. For just $3.50 a week, you can get unlimited, lightweight access to the Vancouver Sun, The Province, National Post and 13 other Canadian news sites. Support us by subscribing today: The Vancouver Sun | Province.